DeTomaso Magna-Tool Mat

I've been using this type of tool mat for some time, and this is no ordinary tool mat!

This 12-in. square PVC high-energy magnetic mat is flexible, foldable and non-conductive – it won't scratch paint and can be used where metal tool pans can't go.

This tool mat contains VERY strong Neodymium rare-earth magnets so it adheres to any ferrous surface; tool boxes, file cabinets, steel doors, metal benches, and can extend your tool chest storage capacity, keeping your most used tools right at hand. I keep several in my trunk for "work on the go".

This is great for under the hood or decklid to keep your tools or fasteners and metal parts from getting away from you and hiding. Face it we have all wasted time chasing tools or parts that seem to jump to the hardest place to find!

This mat will not short out electrical connections, and it can be attached to the inside or outside of fenders or even under your car, or dash so you don't have to crawl around for tools or parts.

This is made to be durable and chemical resistant – easily wipes clean. I use it to carry loose tools and hardware to and from the work area. You can also use it to sweep up dropped metal objects. The design includes two grommets for hanging.


Large DeTomaso Tool Mat
Non-Slip Rubber-Backed Vinyl
Approximate size 18" X 14" (Bottom image)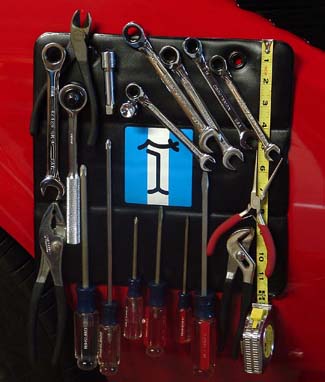 The Magna-Mat above is seen magnetically attached to the fender (vertically) and as you can see the tools stay in place!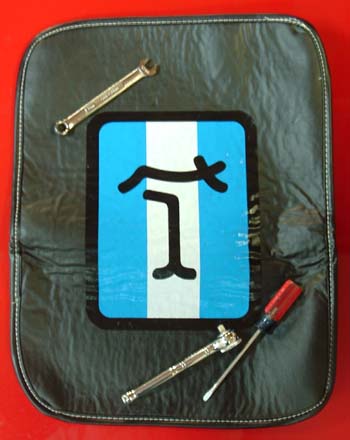 Rubber-backed vinyl to protect your car's finish from tools and parts.